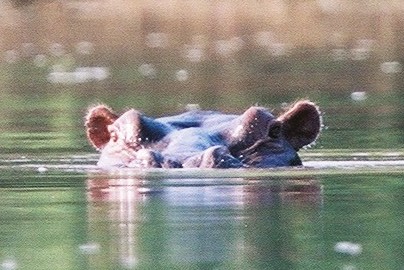 "Tourist Initiative of the Year Award, 2000"
- Ghana Tourist Board
Welcome to the site dedicated to the Wechiau Community Hippo Sanctuary, Ghana.
The Wechiau Community Hippo Sanctuary (WCHS) is a unique community-based project, protecting and preserving the wildlife and the environment of a 40km stretch of the Black Volta River in Ghana's Upper West Region. The river is home to one of the two remaining hippopotamus populations in Ghana, and was created into a Sanctuary by local chiefs in 1999. Since then, the project has had marked success in providing Ghanian and International tourists with a unique and unusual eco-travel experience.
The area has much to offer, both due to the huge diversity of wildlife and the opportunities to become immersed in the local culture and activities.
See the section on "Wildlife" to learn about exciting wildlife viewing opportunities at WCHS, and the section on "Local Community" to see ways in which you can experience the local Wala and Birifor (Lobi) Tribal life and customs.
Partners and Sponsors of the WCHS (more info at their websites):
Home --- Wildlife Experiences --- Local Community --- Lodging --- Gallery of Pictures
WCHS Objectives --- Hippo Fun Facts --- Directions to WCHS --- Contact US
Downloadable pdf colour brochure on WCHS from the NCRC